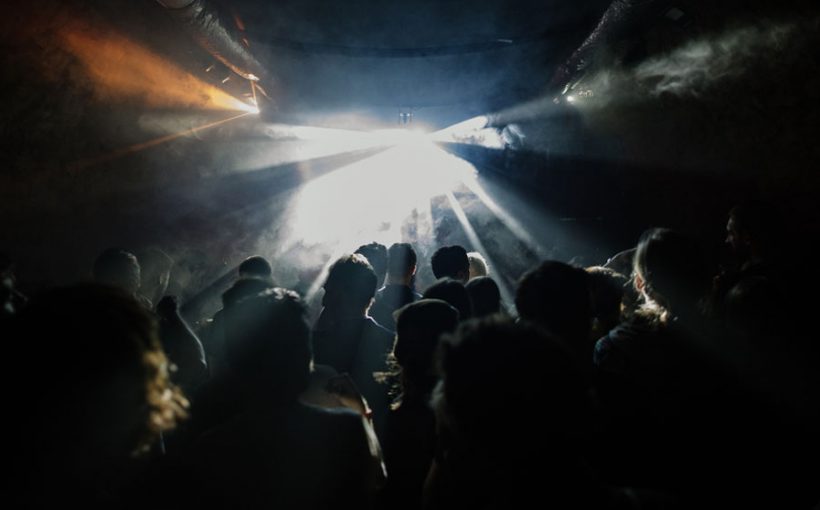 MUSIC PROGRAM 2018
Tamil i Tajny projekt (PL)
23.10.2018 | 21:30 | free entrance
Hevre +1 | Meiselsa 18
Interactive performance / installation about artificial / real intelligence and real / artificial love as well as online close-ups, sex without sex and people who pretend to be androids. As the authors promise: "Using the original concept of MIDI feedback and ASCII and glitch art solutions, and thanks to the program controlled by the converted washing machines, we will paint a love mosaic live to which the soundtrack will be created and sung by a computer".
---
Kondensator Przepływu | Bartłomiej Chmara, Qba Janicki, Martyna Chojnacka (PL)
24.10.2018 | 21:00 | free entrance
Hevre +1 | Meiselsa 18
The Flow Condenser is a band created by friends from the school bench – musicians Qba Janicki, Bartłomiej Chmar and visual artist Martyna Chojnacka. Their music paths have always been associated with improvisation, although they have never been limited to one genre. They have the following activity: Alias Free Trio, Tirvyous Wagon quartet with Tomasz Sroczyński and Marek Pospieszalski, club music production and a number of individual projects. They are strongly connected with the environment around the Bydgoszcz MĘZG club.
---


Patchlab Festival & Szpitalna 1 Presents Surprise!
27.10.2018 | 22:00 | TICKETS Going / 1st pool 20zł / 2nd pool 25 zł / 30zł at entrance after midnight
Szpitalna 1
Following the annual cooperative tradition between Szpitalna 1 and Patchlab Festival, we present to you this year's Patchlab party here at Szpitalna with Franklin De Costa & TASHA! The theme of the 7th edition of the Patchlab festival will be ARTBOTS and will be held in Krakow from 23-28 October, 2018. The festival aims to examine a world full of increasingly intelligent algorithms, and will try to make contact with creative AI.This year's Patchlab festival will explore key phenomena in contemporary culture and art, including VR, augmented reality, artificial intelligence, hacking and digital identities.
Franklin De Costa (Killekill/ Mothers Finest/ Berlin)
Under a myriad of aliases, Berlin legend Franklin De Costa has been quietly releasing challenging, forward-facing house and techno for the best part of 20 years. Always operating in unconventional territories, he is well known in underground circles as one of the most consistently interesting and innovative DJ-producers at work in the city. De Costa runs the Mothers Finest parties at Griessmuehle which feel closely linked to current happenings in London and Bristol: line-ups invariably feature at least a handful of artists from the network surrounding Timedance, Hessle and Livity Sound, and crowds take to broken rhythms, heavy subs and nonlinear structures in a way not often seen in Berlin
TASHA (Neighborhood / London)
Tasha is a DJ, producer, promoter and label owner from London. She made a name for herself with a Radar radio residency and by featuring on Rinse FM for almost 4 years. Tasha's DJing style matches this textured background of her influences- weaving tunes together seamlessly from her bass informed home of the UK alongside four four techno forms born in Berlin and Detroit. In 2016 Tasha launched the label Neighbourhood with Randomer, Cadans, Kamikaze Space Programme, Metrist and Forest Drive West all featuring to date.
RRRKRTA (Brutaż / Warszawa)
RRRKRTA is a Polish DJ and promoter, one of the key people responsible for Brutaż, Poland's foremost clubnight and label. Brutaż was awarded Resident Advisor's label of the month this May.
OLIVIA (Unsound / Radar / Kraków)
Olivia is one of Unsound's resident DJs and one of the biggest movers on the Krakow club scene. She's books nights for Szpitalna 1 club and hosts her own We Are Radar series.
Discomule (Unitrax / Krakow)
Discomule is a DJ and producer from Krakow known for his extensive vinyl collection and ability to keep you grooving on the dancefloor. He is part of the duo Unitrax and is a resident of Off Radio Krakow.
Daniel Drumz (U Know Me Records / Kraków)
The Krakow-based DJ/Producer Daniel Drumz first came to prominence as a teenage turntable wiz, touring and recording with Polish hip hop legend Grammatik. He has since delved into futuristic, bass heavy sounds, making a name for himself with two releases. His live set is a hands-on, soulful exploration of the futuristic bass-driven electronica, blurring the lines between the uneasy and the pleasurable, the ugly and the beautiful, the funky and the acute.
---
Pruski Live – Sleeping Places (PL)
28.10.2018 | 20:30 | free
Hevre +1 | Meiselsa 18
Premiere of the debut album Sleeping Places of Paweł Pruski – Polish music producer, electronic music artist. Formerly known as Minoo, in this new endeavor he takes his listeners on a trip through the worlds of ambient and experimental electronics. The leading part of the album are synthetic sounds combined with processed field recordings. Conceptually the album is not an attempt to create a musical illustration of any place in particular. It is an interpretation of what is left only in memory, what is no longer a part of our reality. It is the end resultant of combining subjective memories, fragments that survived in the form of sounds.