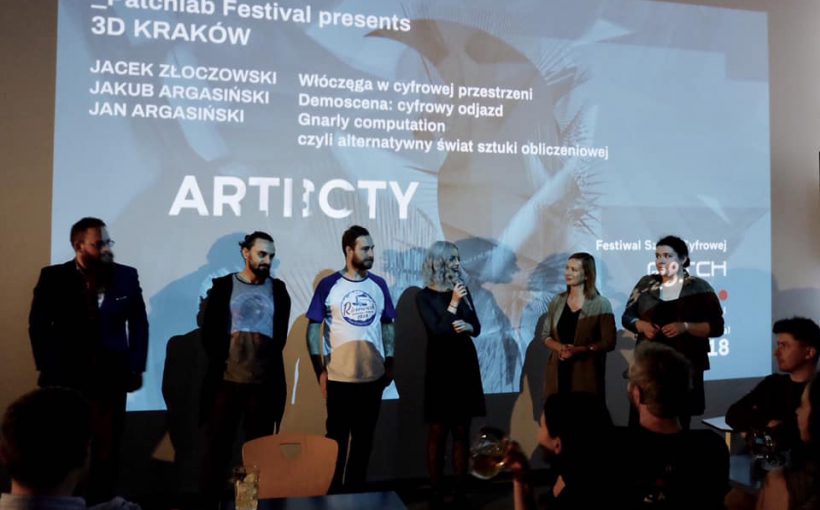 Patchlab Festival presents 3D Kraków
25.10.2018 | 18:00 | free entrance
Hevre +1 | Meiselsa 18
A meeting of the Krakow community of creative industries broadly associated with 3D graphics.
3 lectures and networking on schedule:
Digital space ramble | Jacek Złoczowski
During the meeting, I will talk about works in which the manipulation in the digital recording of physical space, 3D reconstruction (or deconstruction) and the wandering through space itself are an attempt of artistic interpretation of the reality. In the presented works I combine the use of morphing techniques, 3D scanning, Google Street View application, live streaming and algorithms for wandering in virtual space. I will present the following works:
Memorymorph
Work created with a use of a 3D morphing technique and with use of Google Street View application. Work was presented during the exhibition Tanceba, in BWA gallery in Bielsko-Biała, in 2016. Work created with Małgorzata Łuczyna and Grzegorz Łuczyna.
Sisyphus Spectator
A computer application in which the algorithm with the use of an avatar drifted through the virtual slope of the mountain, looking for "fulfillment" and its own ending in reaching the summit. The application was combined with performative activity and live streaming on the YouTube channel and in the exhibition space.
---
Demoscene: Digital Dope | Jakub Argasiński
While over 30 years old, Demoscene remains largely unknown phenomenon to both computer software developers and art creators / enthusiasts, at the same time combining qualities of these both worlds: technical excellence and beauty of fine arts. Born from an obscure environment of software crackers, Demoscene quickly escaped its shady roots to become an object of admiration of '90s computer enthusiasts and gamers, spawning dozens of talented artists of all kind: music composers, graphics artists or even entire video games studios. We'll take a closer look on how this digital underground movement looked back in the days and its condition in 2018
---
Gnarly computation, or an alternative world of computational art | Jan Argasiński
Good computer art – whether it's a demoscene, A.I. art or all kinds of generativisms – is characterized by a certain level of organic strangeness. This strangeness can be conceptualized in various ways. One of the possibilities is to put it in the "gnarly computation" category. In my talk, I want to discuss "the gnarl" and show a some inspiring examples.