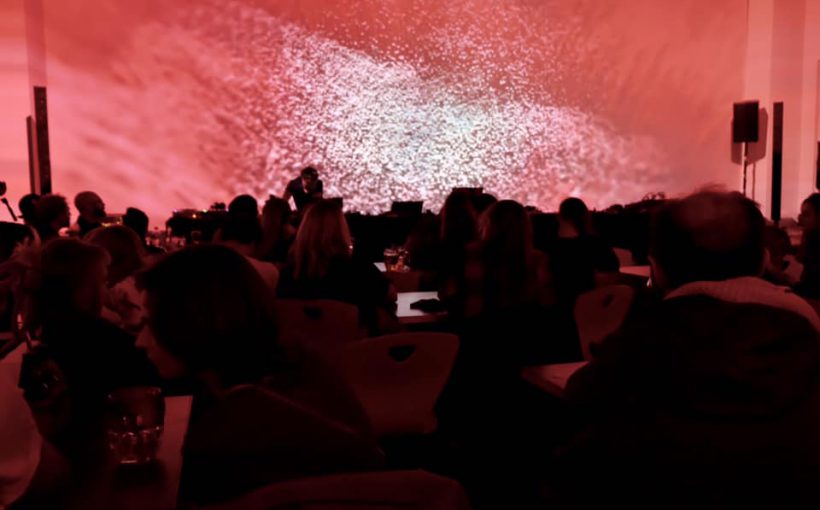 PATCHLAB WEEKEND
Senster | WRO on Tour |
AV NIGHT | Szpitalna 1
Let's start the weekend! Tonight it is time for the awaited AV NIGHT – four audiovisual performances, Maotik from France will present a poetic vision of the world from the perspective of drones. The program also includes the 'Comfort Zones' project by a Polish duo from Wroclaw, Cypriot nature in the spectacle created by Pandelis Diamantides and a cosmic journey carried out live on the 360 degree visual system by AB/DX from Mexico. Tickets are available on Going or at the entrance.
We also invite for Screenings, which gives an opportunity to watch WRO on Tour: Secret Intelligence – the works from WRO Media Art Biennale 2017 Draft Systems program, curated by Piotr Krajewski and Geomancer – film about the creative awakening of an Artificial Intelligence. For kids we have prepared an hour long workshop at 1pm, during which we will create a new concept of the future city with the use of ozobots.
Tomorrow on Saturday we recommend to visit Faculty of Foundry Engineering of AGH Universtity of Science and Technology , where it will be a chance to see Re:Senster – a giant, hidraulically activated, interactive robot made from steel, that reacts to sound and movement around it. The pioneer work of robotic art had been created in the late 60's by Edward Ihnatowicz. After years it was renovated by a team coordinated by the University of Science and Technology (AGH) and Faculty of Intermedia at the Academy of Fine Arts (ASP) in Kraków.
All the places for workshops with Anna Widera from Medialab, during which you can create your own interactive robot, are unfortunately already occupied. But we invite you to the panel discussion hosted by Wiesław Bartkowski, which theme is Artist and machine or machine and artist?. Specialists and artists, from Faculty of Intermedia at the Academy of Fine Art, AGH and Jagiellonian University among others, will explain the meaning of Artificial Intelligence, deep learning and neural networks. The discussion will concern an impact of AI's development on art, both nowadays and in the future. After the panel discussion we recommend to see AfterImage II, audiovisual performance for human, instruments, drone and brain waves.
On Saturday night Szpitalna 1 club is a must for techno & house music fans. This year's headliners are Franklin De Costa from Berlin and TASHA from London, as well as talented Polish artists: RRRKRTA, OLIVIA, Discomule i Daniel Drumz. The visual setting will be in the hands of AB/DX from Mexico. Tickets are available on Going or at the door.
On the last day of the festival we invite to Screenings in MOS and to the ARTBOTS exhibitions. In the evening we recommend to visit Hevre +1 for the premiere of Paweł Pruski's album called Sleeping Places, 360° Gallery powered by On Lemon and the festival afterparty, during which DJ Ale from Verona, Italy will take care of the music. Free entrance.
See you at the festival!