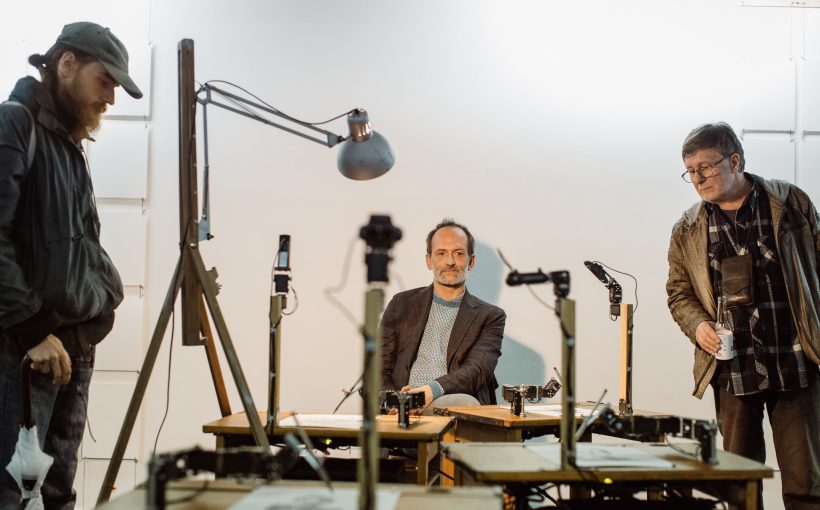 Patchlab Festival OPENING
Vernissages of ARTBOTS exhibitions
Patchlab Digital Art Festival is starting tomorrow! During the seventh edition artists will look at the world full of increasingly intelligent algorithms. We will try to make contact with creative artificial intelligence (AI). Works of 43 artists from Poland and abroad will be presented, including those from Austria, USA, Australia, France, Italy and Mexico. We invite you to the openings of ARTBOTS exhibitions, which are taking place tomorrow at Galeria Sztuki Współczesnej Bunkier Sztuki and Małopolski Ogród Sztuki, as well as to the inauguration of 360° Gallery and the afterparty at Hevre +1.
18:00_opening of the festival and vernissage of ARTBOTS exhibition
Contemporary Art Gallery Bunkier Sztuki
Let's start with drawing robots. We would like to invite you to the futuristic drawing lesson, where the human is the sitter and the inspiration and the robots take the role of the artists. Human Study #1. 5 Robots Named Paul is an installation created by Patrick Tresset, a French artist and scientist that examines the computing creativity, art and our relations with robots.
20:00_vernissage of ARTBOTS exhibition
Małopolska Garden of Arts
We would like to invite you to the world, where art combines with the potential of machines. There will be a chance to see robots protesting for their rights in a performance created by Nika Oblak and Primoz Novak, to talk with a chatbot and to evaluate the level of AI's creativity. Algorithms will create graphics, compose music, play games and write poetry and an intelligent picture Beholder will reveal the machine's thoughts about visitors. At the vernissage drinks will be served by a robot called Spritzerbot.
21:30_ inauguration of 360° Gallery, concert of Tamil i Tajny projekt (PL), afterparty
Hevre +1
At Hevre +1 there will be a chance to see audiovisual projects dedicated to 360° video system built of 10 projectors. Blue tears by Teng Wen-hsin (TW), Imaginarium by Ari Dykier (PL) and Moniiz by Crazy Language (DE). We would also like to invite you to the interactive performance/installation about artificial/real intelligence and real/artificial love. At the afterparty music will be in the hands of DJ Puto.
See you there!