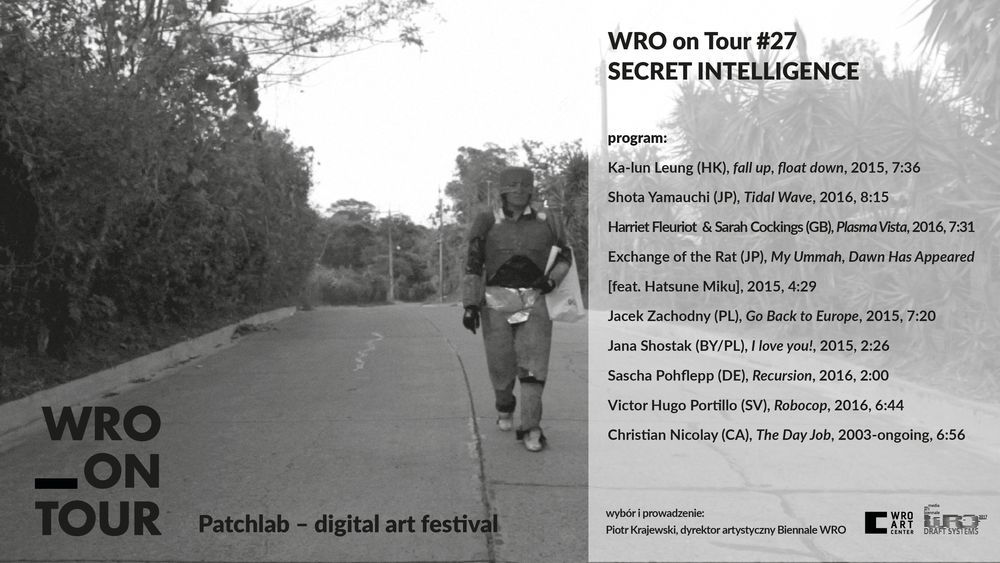 WRO on Tour: Secret Intelligence
Selection of works from the Biennale of Media Art WRO 2017 Draft Systems program, made in terms of the theme of the leading Patchlab Festival. A hypothetical point of view was adopted that some of the work could be attributed to the talent of the disguised artbot.
The show consists of two parts so that viewers can test their own ideas about human and non-human creativity.
Selection made by Piotr Krajewski, Artistic Director of the WRO Biennale
Ka-lun Leung (HK), fall up, float down, 2015, 7:36
Shota Yamauchi (JP), Tidal Wave, 2016, 8:15
Harriet Fleuriot & Sarah Cockings (GB), Plasma Vista, 2016, 7:31
Exchange of the Rat (JP), My Ummah, Dawn Has Appeared [feat. Hatsune Miku], 2015, 4:29
Jacek Zachodny (PL), Go Back to Europe, 2015, 7:20
Jana Shostak (BY/PL), I love you!, 2015, 2:26
Sascha Pohflepp (DE), Recursion, 2016, 2:00
Victor Hugo Portillo (SV), Robocop, 2016, 6:44
Christian Nicolay (CA), The Day Job, 2003 – ongoing, 6:56
Małopolska Garden of Arts | Rajska 12
Cinema room
26-28.10.2018 | 16:00-18:00
free entrance | space limited